Hi! We are Mandy and Justin, travel bloggers extraordinaire! Thanks for taking the time to read our blog and learn more about us!
about MANDY, the main bloggeress
Born and raised in Atlanta, I am a true southern peach. I'm very close to my family, and I think one of the best things in life is sitting on the front porch at the end of a summer day with a glass of lemonade in hand and my husband by my side. I'm extremely passionate about photography, writing, and travel. I love going to places I've never been almost as much as exploring every last nook and cranny of places I've seen millions of times before! In my opinion, there is always something new to see and discover. When I'm not traveling, I can often be found trying new recipes in the kitchen (with the husband's guiding supervision), spending time with family, shopping at Anthropologie, or relaxing with a good book or movie.
about JUSTIN, rarely featured
A Georgia Tech graduate seeking opportunities in the growing field of computer engineering, he currently works for a small start-up company in the Atlanta area. Not quite as passionate about photography, writing, or travel, Justin tends to go along with whatever his wife wants. He enjoys solving problems (being the engineer that he is), listening to podcasts, and chef-ing it up in the kitchen.
about WITH LOVE, the blog
Mandy first began blogging over 10 years ago, and while her style has done a complete turnaround in the time since, she's found that the habit of daily writing helps her to relax and unwind allowing her to recall, in detail, her life and travel experiences. Every week she explores a wide range of topics including movies, music, and money; travel reviews and experiences; pictures taken and edited (as she develops and hones in her style); memories, DIYs, beauty and book reviews; and food and fashion reviews. While she can't guarantee topics she discusses will pertain to every reader, her goal is to share life experiences with her readers in such a way that, if desired, they will be in a better position and have extra knowledge for tackling anything she's shared about in the blog previously.
WHERE WEVE TRAVELED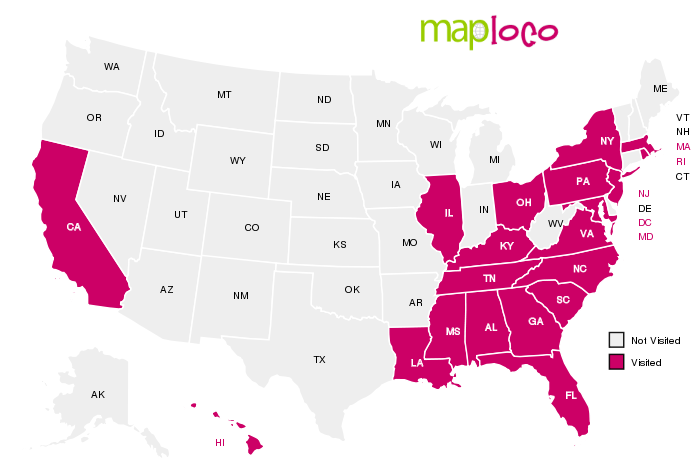 Create Your Own Visited States Map
ON OUR LIST FOR THE FUTURE
the Grand Canyon
California
DC
Check out our current travel plans
here
.