As I mentioned
yesterday
, I spent a bit of time wandering through Anthropologie over the weekend exploring the sales rack. I also tried on a few things.
One of the few things I tried on and bought was the
Lodi Cardigan
.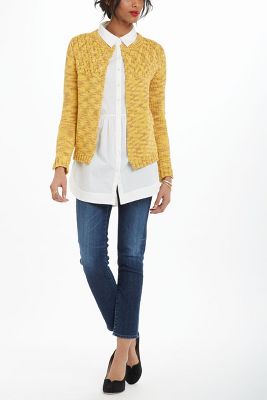 I thought it might go well over a dress or two. I won't mention which ones because when I brought it home and paired it up, I quickly realized that I was mistaken. The
Lodi Cardigan
is thick, warm, and too long for short girls to pair with dresses. It does however look cute paired with jeans and a long top, as shown above. Apparently, though I did not notice, the cardigan does not have buttons! Surprise, surprise! Like a lot of reviews on Anthropologie's website have mentioned, the weight of the cardigan keeps it exactly where you want it, which is nice. The sleeves are a bit long on me, even in an extra small, but I don't think it hurts the look at all to fold them up. Finally, there is the color. While I am not a huge yellow fan, I do love this mustard yellow color. There are brown tints all throughout giving it the sort of vintage yellow-from-the-70's-look. If you know me at all, you know I adore vintage. I definitely recommend this sweater for cold weather. Plus, it's on sale right now! (I'm not sure I would buy it at full price.)
Then there was the
Rose Bramble Sundress
.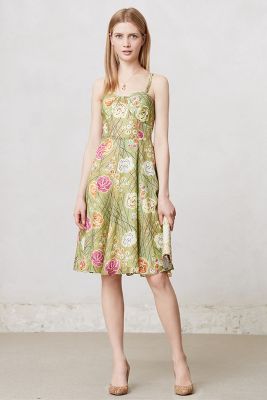 This dress, made by Girls from Savoy, was nice and lightweight; it is a good summer dress. Unlike other Girls from Savoy dresses, the straps on this dress are thick. . . and you cannot remove them. Also, the dress is a bit see through. It's not like everyone could see everything, but a slip would definitely improve the dress. I especially noticed this in the stomach area. The green on the dress is just as pictured, like a light lime color with the prettiest pink, yellow, and white flowers all throughout. I think this would be a lovely summer party or guest at a wedding dress. I did not come home with this dress, because of the way it fit me through the stomach area and the super-thin material. Perhaps at sale time, I may reconsider.
The last dress I tried on was the
Ivete Patchwork Dress
.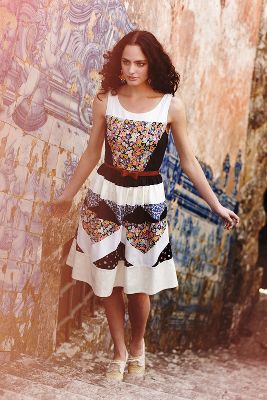 At first Justin hated this dress. . . a lot. He wouldn't let me try it on. After showing him what it would look like paired with a belt or two, he finally agreed. While I did receive a compliment in the fitting room over the dress, I ended up leaving the store without it. (I have a hard time buying things at Anthropologie that aren't on sale anyway.) I do believe this dress would look super cute with the right accessories (belt, cardigan), but I did not have any with me while shopping at Anthro nor did they have any I felt would be just right. The one thing Justin and I agreed on most about this dress was the beautiful almost off-the-shoulder neckline. I am obsessed with clothing that is just off the shoulder. Seeing as that style is so difficult to find, I'm hoping this dress will be just the beginning of dresses Anthro has to offer in that particular style. We shall see though.
Before leaving Anthropologie, I convinced Justin to let me buy a gorgeous
tea cup and saucer set
.
I have been eyeing it for a while, and I just couldn't resist since it was on sale. If you are interested in the Watercolor Petals Cup and Saucer set, you should also be aware of the gorgeous dinnerware to match:
Other news that might be beneficial to you all:
Gilt
is having a sale on wedding attire and accessories for the bride, groom, bridal party, and guests. They also are offering honeymoon attire and registry items. Go check the sale out especially if you are a BHLDN fan! :) Plus, don't miss their separate sale on Free People items!
Macy's
is also having a sale on most items in their stores. You get 25% off using this coupon code
SLICKDEALSFF.
While
some exclusions
do apply, I have yet to find any.
I hope you all are having a fantastic Tuesday!