So my weekend started off pretty awesomely when I got a text from some friends in Germany saying they finally got their Christmas gift in the mail! (We sent it pretty late, because I was sick, and crazy-busy crafting bunches of Christmas gifts! Eek! I am a terrible friend/person, I know!) I loved the response of having given "something warm and something to drink hot chocolate with" since when I sent it I avoided using words that would indicate what exactly was in the box. (I hate how the postal service slaps on a sticker saying what is in the box voiding the whole point of mail being a surprise. Why no! You have to open the box to know what exactly is in there!)
Anyway, from that point on my weekend just got better.
I had a whole crazy long list of things that needed to get done on Saturday and appointment times to go with it. We weren't sure if we would make all of our appointments, but we did! It began with a trip to the bank Saturday morning, dropping off things to be stored with my parents, having a quick brunch while out and about before breakfast hours ended, followed by a hair appointment and an Apple appointment for my computer.
In between all of these appointments, we also needed to return something I had bought from Anthropologie. Justin probably should have said no, but he agreed to let me look through the sale section. I tried on 4 different things.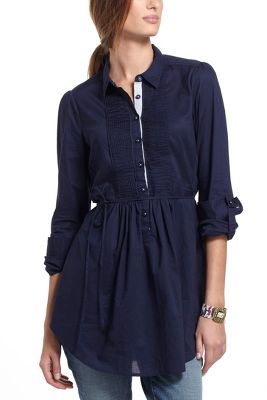 One of the first things I tried on was the
Fan Folds Tunic
. It was really cute on... except that the chest fits a little tight. I tried the shirt on in my usual size of 0, but while it fit everywhere else, I would have needed to go up a size or so for it to fit in the chest area. Considering I have a fairly small chest, I decided it wasn't worth it.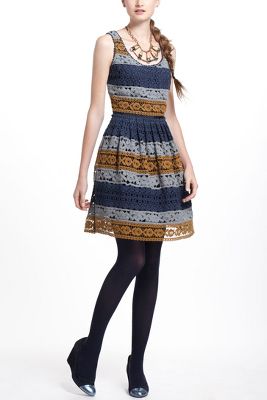 Next up was the
Striated Lace Dress
. Justin and I agreed -- the dress tried REALLY HARD, but it was a no. Turns out the waist was really weird on me. Instead of looking natural, it kind of stuck out. On top of that, the top of the dress was too big! I was wondering what was going on with my chest at this point! Too big for one dress and too small for another! There was really a lot of room in the top of the dress, and I would probably have had to spend a lot of money getting it taken in... which is not something you want to do when you purchase Anthropologie. Yuck. I'm also not usually a fan of stripes, so it was interesting that I was willing to try this dress on. I inevitably decided that the way the dress fit made it not quite as awesome as the
Sunshades Dress
which is one striped dress I absolutely love!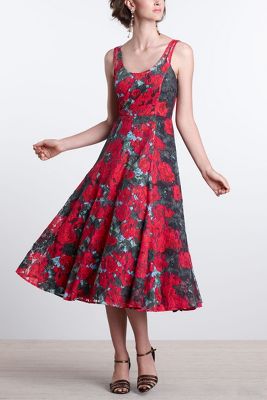 So then I tried on the
Noisette Lace Dress
. I had seen it in Anthropologie about the same time I saw my
Stitched Looma Coat
. I loved the style of this dress, but I was terribly afraid it wouldn't work for me. I assumed (as did my husband) that the dress was meant for someone much taller than a 5'2" female. I was terribly wrong. Do you see the model in the picture above and how her dress swooshes? That was my very first impression of this dress! It swooshes!! I know it sounds hilarious, but it's the part of the dress that makes you feel like a princess when you are wearing it. The fabric is nice and heavy... The dress does not feel (or look) cheaply made at all. On top of it all, this dress hit me right above the ankles which actually looked pretty great. I think with this dress you could easily add a belt or a bolero (shrug?) and jazz up (or down) this dress. I tried it on with a grey shrug, and Justin said it looked phenomenal.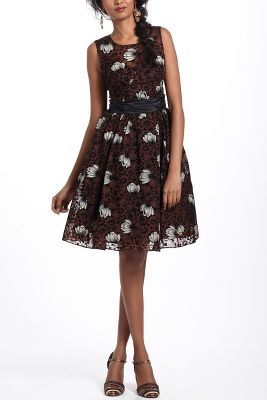 The very last dress I tried on was the
Chrysanthemum Tea Dress
, another Tracy Reese design.* I had tried this dress on initially around Thanksgiving on a day when I was short-tempered and not feeling good. I guess my mood had an impact on what Justin thought of this dress. While we were at Anthropologie on Saturday, he pointed out this dress and asked if I wanted to try it on. Remembering that I thought it was lovely on, I agreed. I figured if he didn't remember my first time trying this dress on, it was his loss (or gain). So I tried on the 2 and the 4 remembering that this dress fit crazy tight in the waist and that the 0 was too small. When I tried on both the 2 and the 4, I could not get the zipper up. My initial thought was that the 2 didn't fit, but I felt insane thinking that the 4 didn't fit. Finally, I just got help. It's quite possible that the 2 could have fit me if I had asked for help with the zipper, but considering the 4 fit pretty well, with Justin's help zipping, I didn't bother going back to the smaller size.
Justin bought me both the Noisette Dress and the Chrysanthemum Tea Dress on sale. When I asked him why he would agree to buy both, he said that 1) it gave me more dresses to wear and 2) Anthropologie dresses give me confidence and make me feel pretty. I was not going to argue that!
So, at the end of the day, with my hair cut and styled and two new dresses, I definitely felt like I had emerged from the movie Pretty Woman.
My weekend did get better, but for that you will have to wait until my next post!
*(See Stitched Looma Coat and Noisette Dress.)