I can never resist sharing my awesome finds from Anthro., but really can you blame me? Anthropologie is not the cheapest of stores, but what they sale tends to be more 'artsy', 'creative', and EVERYBODY (well, mostly females) loves it. Justin loves that the clothes are well made. My mother wishes she had clothes that fit like the dresses I buy from Anthro. My grandmothers think the home decor is awesome.
Recently Justin and I have started looking at the cookbooks from Anthro.
We won
Molly Moon's Homemade Ice Cream
during a giveaway, but it is currently on sale at Anthro. so you may want to check it out. It has awesome reviews on Amazon!
Justin and I made the cherry chocolate ice cream from the book for Justin's dad's birthday this weekend. While it was absolutely delicious, we couldn't get it to 'set'. We're going to try another recipe from the book again soon. We may have been in too much of a hurry. Recipes I'd love to try from the book include: strawberry balsamic ice cream, blood orange sorbet, and maple walnut ice cream among others.
We also recently purchase
The Good Life
by Adrian Richardson. Adrian Richardson, it seems has a tv show in Australia. He is also really big into cooking meat (which you may not surmise from the cover). Apparently he and Justin both believe that a happy animal is the best tasting kind of animal (i.e. one without growth hormones, one that eats grass and grows naturally). Of course, they also both agree that alligator, rabbit, quail, and pigeons taste good (or would taste good). *shrugs*
I guess what got me excited about this cookbook (beyond the delicious looking comfort foods that I could get behind making) was the graphic design. There is a really awesome bookmark that comes with the book that looks like the tablecloth on the front of the book. It is really crazy and makes you feel like you could have cooked that delicious pie on the cover. The book is hardcover, and the pictures of the food frame the text and recipes. I love that the images aren't overly saturated in color. And the best part: the book is FULL (to the brim!) of images! I hate cookbooks without pictures; they make me sad! :(
We got some gifts for my grandmother which I don't really feel like I can post online without sharing with more people than I want to. We also got some bathroom 'cutes' that they no longer have for sale at the Anthro. website. A soap dish and a toothbrush holder in a lovely turquoise with some intricate floral scrolling. Very pretty. (Justin picked it out. He didn't like the cheap, also turquoise, toothbrush holder I had gotten from Kohl's. *shrug*)
Overall, my favorite thing we got from Anthro. this weekend (or actually, last night) was the Native Birds dress.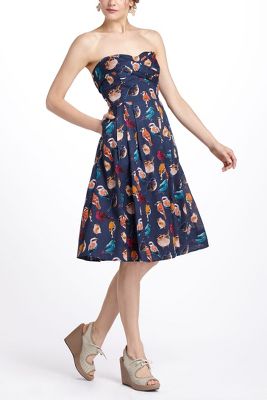 I'm planning on wearing this dress to my cousin's outdoor wedding in October. I think. Maybe. I've been watching and waiting for this dress to go on sale since July!! When I went to the first Anthro. store yesterday, I was informed they were out of my size. The store sales associate told me I could order it, but I really wanted to try it on before purchasing. She told me she had the dress and loved it! She also told me that the dress was true-to-size, which I found to be true when we located the dress at another location. I couldn't believe that the guy helping me in the dressing room remembered who I was from a previous trip to Anthro. and gave me advice as to what type of belt to purchase to 'jazz' up this dress. (Talk about amazing sales associates!)
Let me just mention how absolutely awesome this dress truly is! I really didn't think I would like it on me. I tend to have issues with circle necks; they just don't look right on me. I also thought I would hate the sleeves, but they look really elegant. This dress truly looks like something right out of the 1950's era with the huge circle skirt. I love the model in the picture above; I think she looks a bit like Audrey Hepburn in the dress. :)
So yeah... Go check out your local Anthropologie store if you are interested in any of the things I mentioned above. In the case with the cookbooks, you can get them cheaper at Anthro. than you can get them online right now! (Huge plus!) And who doesn't like clothes on sale? ;)